FLASH REPORT: Amazon Go
Amazon Go Appears to be a Breakthrough in Retail, But Will It Appeal to Shoppers?
Amazon Go is Amazon's "checkout-free" convenience store that will open to the public in Seattle in early 2017. The store concept has generated considerable interest since the news of its launch was released, mostly because of the innovative use of in-store technology. Amazon's "Just Walk Out" technology integrates computer vision, sensor fusion and deep learning into the fabric of the brick-and-mortar store. The technology detects when shoppers pick up items from the shelves and charges their Amazon accounts when they walk out of the store. No cashiers, self-checkouts or physical payments.
The concept certainly looks intriguing, and the development of the technology could open up a lot of opportunities for Amazon, as we speculated here. A successful automated store will allow Amazon to gather more data from its customers, or even sell the technology as a service to other retailers. As Amazon has made clear that it is still testing the technology and learning from it, we explore whether the technology will have any real impact on consumers, and discuss the challenges that Amazon will have to tackle in order to make the Amazon Go concept work.
What Do Consumers Think About Amazon Go?
YouGov did a survey soon after the launch of Amazon Go to gage the initial consumer reaction to the new concept. While we agree, it is too early to jump to any conclusions, especially since the store has not been officially opened to the public yet, it is clear that, breakthrough or not, consumers are not willing to pay a premium for a cashier-free experience: an overwhelming 66% said they would not be willing to pay more, even if it means avoiding checkout lines.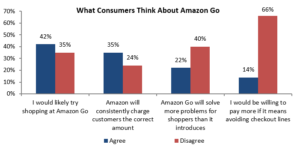 Source: YouGov
In addition, a large portion of the survey respondents believe the technology will introduce more problems for shoppers than it solves—a hint to Amazon that the company will need to perfect the technology before it is launched in 2017. This is hardly surprising, given US consumers' experience with the last big technology that was deployed in convenience stores—self-checkout counters, which have generally failed to live up to the expectation of a more convenient retail experience, and are even believed to encourage more shoplifting among consumers.
Technical Questions and Challenges
As shown by Amazon's video, the "Just Walk Out" technology appears to be technological genius. The technology detects when a product is picked up and when it is returned to the shelf, reflecting the change simultaneously in the user's mobile cart. Amazon has not shared any details about what happens under the hood of Amazon Go, but technology experts believe that it uses a combination of cameras and sensors to pick up consumer and product information. Amazon likely achieves this by combining artificial intelligence (AI)-powered facial-recognition software, product tags and sensors, and microphones to triangulate a customer's position by picking up sounds generated by motion. The system also "controls" the environment by having every shopper scan an Amazon Go QR code as they walk into the store, allowing consumer tracking and minimizing the risk of shoplifting. While the idea of the entire system working seamlessly is fascinating, there are certainly some practical questions that are yet to be answered:
What if products are picked up from the shelf, but returned to a different shelf or dropped before leaving the store?
How would the technology account for families shopping together and kids picking up or misplacing products?
Will the costs of deploying the technology at scale make it a viable economic investment?
What do we think?
The technology certainly has the potential to revolutionize the brick-and-mortar experience, bringing unprecedented convenience to consumers, but we believe it will be a while before everything clicks in place for Amazon's "Just Walk Out" technology and consumers embrace this futuristic way of shopping. We are certainly excited to find out more about how the technology works as we enter into 2017.